Chicago Weather Averages
The following weather charts display the monthly average weather conditions of Chicago, USA. The first weather graph displays the day time maximum average temperature and the number of wet days per month, the second shows the number of hours of sunshine per day compared to the month average rain fall and the third chart indicates the maximum and minimum temperature in Fahrenheit and Centigrade. This average weather conditions can be useful when planning a holiday, business trip or vacation to Chicago, USA.
Chicago Weather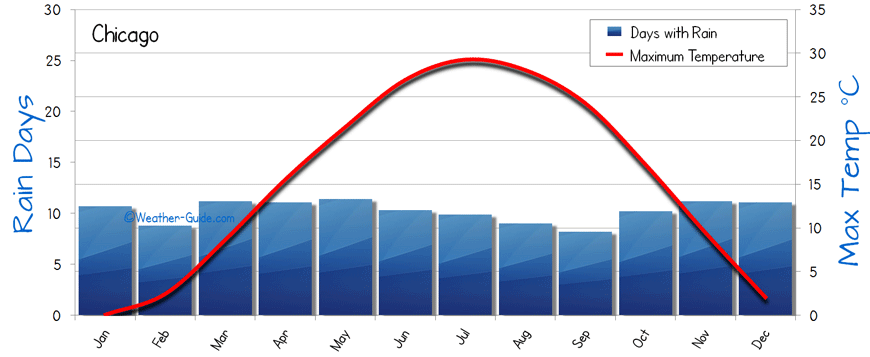 The above weather chart of Chicago summarises the monthly averages and season trends.
Sunshine and Rainfall for Chicago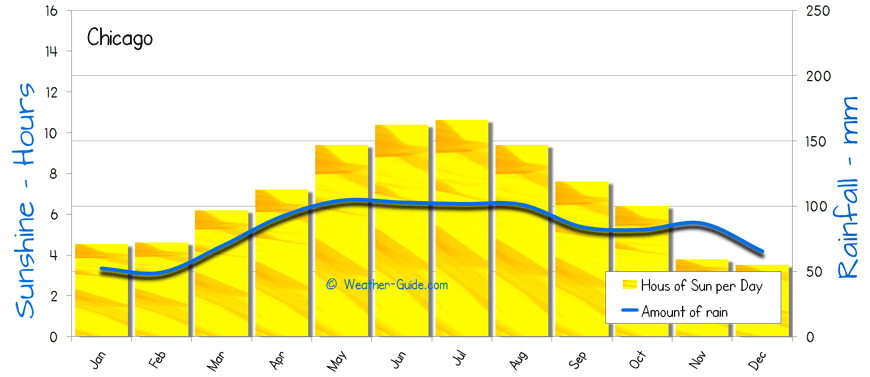 The average hours of sunshine per day verses the amount of rainfall for Chicago, USA
The Temperature of Chicago
Chicago Maximum and Minimum Temperature in centigrade and fahrenheit.
Chicago experiences a wide range of weather conditions throughout the year. The spring months are generally mild, with temperatures ranging from the low 50s to the mid-70s.
However, the city can also experience occasional cold spells and showers. The summer months are usually warm and humid, with temperatures often reaching into the 80s and 90s. However, Chicago is also susceptible to severe thunderstorms and tornadoes during this time of year.
Autumn in Chicago brings cooler temperatures and beautiful fall foliage. The city's trees change colour, providing a stunning backdrop for the chilly days ahead. Autumn is also a great time to enjoy some of the city's many outdoor activities, from cycling along the lakefront to exploring the Windy City's neighbouhoods on foot. As the leaves begin to fall, Chicago's residents gear up for the long winter ahead.
Winter can be a tough time in the city, with temperatures dipping below freezing and lakeside winds making it feel even colder. But there are plenty of ways to stay warm and busy during the winter months. Ice skating at Millennium Park, sledding down Daley Plaza, and exploring Chicago's world-class museums are just a few of the many things to do indoors when the weather outside is frightful. So bundle up and enjoy all that Chicago has to offer during the autumn and winter months.
More USA City Weather
Weather Comparison
New York with....
Weather Comparison
LA with....
Albuquerque - Anchorage - Atlanta - Boston - Chicago - Cleveland - Denver - Detroit - Honolulu
Indianapolis - Kansas City - Las Vegas - Los Angeles - Manchester, NH - Memphis - New York - Miami - Milwaukee
New Orleans - Oklahoma City - Orlando - Philadelphia - Phoenix - Portland, Maine - Tucson - Seattle - San Diego
Austin - Chicago - Dublin - Houston - Las Vegas - London - Los Angeles
Mexico City - Orlando - Paris - San Francisco - Sydney - Tokyo - Toronto - Washington
Austin - Washington DC - Chicago - Dublin - Houston - Las Vegas - London
New York - Mexico City - Orlando - Paris - Sydney - Tokyo - Toronto
Weather-Guide.com, With Over 1,000 Pages There's Too Many To List Here!
City Comparison Weather Charts