Boston Weather Averages
The following weather charts display the monthly average weather conditions of Boston, Massachusetts. The first weather graph displays the day time maximum average temperature and the number of wet days per month, the second shows the number of hours of sunshine per day compared to the month average rain fall and the third chart indicates the maximum and minimum temperature in Fahrenheit and Centigrade. For a guide to Boston please click here. This average weather conditions can be useful when planning a holiday, business trip or vacation to Boston, Massachusetts.
The Weather of Boston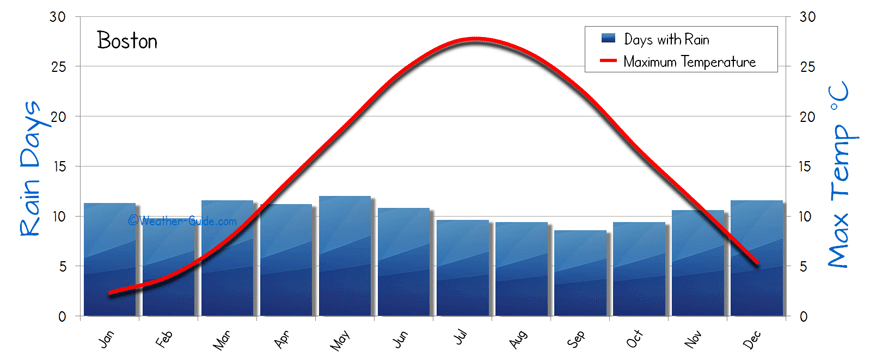 The above weather chart of Boston summarises the monthly averages and season trends.
Sunshine and Rainfall for Boston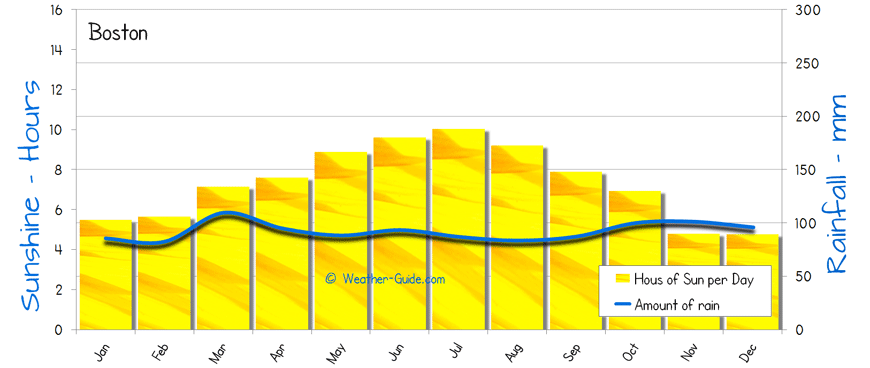 The average hours of sunshine per day verses the amount of rainfall for Boston, Massachusetts
The Temperature of Boston

Boston Maximum and Minimum Temperature in centigrade and fahrenheit.
The weather in Boston is notoriously changeable, but that's one of the things that makes it so interesting! March can bring sunshine or snow, April can be warm or chilly, and even summer can have its fair share of rainy days. But despite the unpredictable nature of the weather, there are still some general trends that visitors can expect.
Typically, the spring and fall are milder, with temperatures in the 60s and 70s, while the winter months are colder, with occasional snowfalls. summers are usually the warmest time of year, with temperatures in the 80s and 90s. However, no matter what time of year you visit, it's always a good idea to pack an umbrella!
Boston is known for its cold winters, but the weather is really quite moderate once you get used to it. The secret is to dress in layers, so you can always take something off or put something on depending on the temperature. In the winter, the temperatures average around 20 degrees Fahrenheit (-7 degrees Celsius), but it feels colder because of the wind chill factor. There is usually snow on the ground from December through March, but it doesn't accumulate too much and it melts quickly.
More USA City Weather
Weather Comparison
New York with....
Weather Comparison
LA with....
Albuquerque - Anchorage - Atlanta - Boston - Chicago - Cleveland - Denver - Detroit - Honolulu
Indianapolis - Kansas City - Las Vegas - Los Angeles - Manchester, NH - Memphis - New York - Miami - Milwaukee
New Orleans - Oklahoma City - Orlando - Philadelphia - Phoenix - Portland, Maine - Tucson - Seattle - San Diego
Austin - Chicago - Dublin - Houston - Las Vegas - London - Los Angeles
Mexico City - Orlando - Paris - San Francisco - Sydney - Tokyo - Toronto - Washington
Austin - Washington DC - Chicago - Dublin - Houston - Las Vegas - London
New York - Mexico City - Orlando - Paris - Sydney - Tokyo - Toronto
Things to do in Boston - Cambridge Boston District - Boston Home Page
Weather-Guide.com, With Over 1,000 Pages There's Too Many To List Here!
City Comparison Weather Charts