Indianapolis Weather Averages
The following weather charts display the monthly average weather conditions of Indianapolis, Indiana. The first weather graph displays the day time maximum average temperature and the number of wet days per month, the second shows the number of hours of sunshine per day compared to the month average rain fall and the third chart indicates the maximum and minimum temperature in Fahrenheit and Centigrade. This average weather conditions can be useful when planning a holiday, business trip or vacation to Indianapolis, Indiana.
The Weather of Indianapolis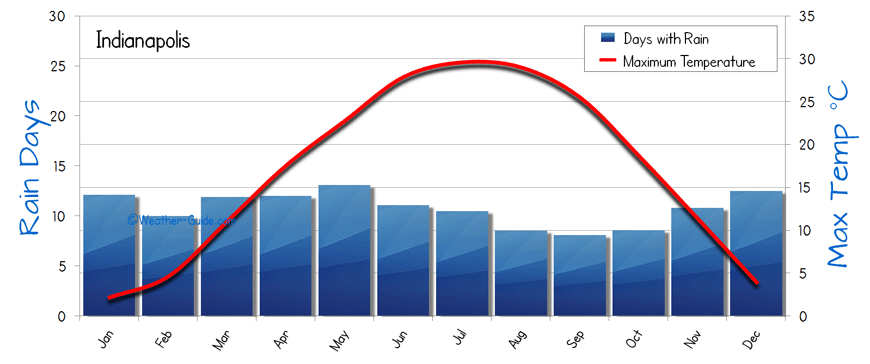 The above weather chart of Indianapolis summarises the monthly averages and season trends.
Sunshine and Rainfall for Indianapolis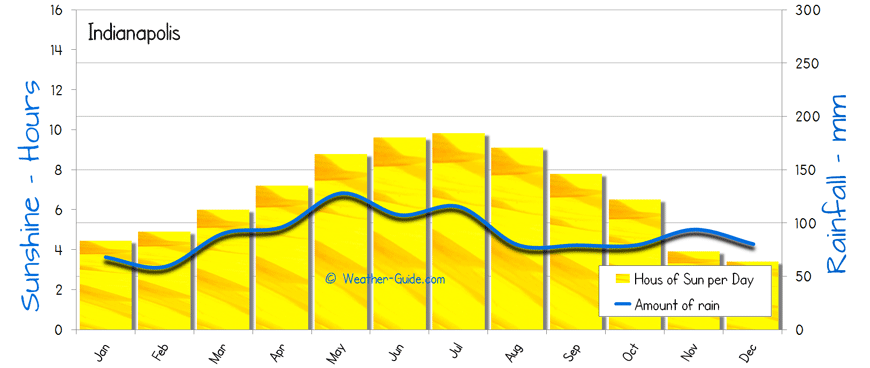 The average hours of sunshine per day verses the amount of rainfall for Indianapolis, Indiana
The Maximum and Minimum Temperature of Indianapolis

Indianapolis Maximum and Minimum Temperature in centigrade and fahrenheit.
Indianapolis has a humid continental climate, with four distinct seasons. The warmest months are June, July, and August, when temperatures average in the low 80s. December, January, and February are the coldest months, with temperatures typically in the mid 30s. The city experiences occasional days with high humidity levels and temperatures in the low 100s.
However, these days are typically short-lived and followed by cooler weather. Indianapolis receives an average of 40 inches of rain per year. Snowfall is less common, but the city does see an average of 12 inches of snow each winter. Overall, Indianapolis has mild weather that is enjoyable year-round.
Indianapolis, Indiana is a great city to visit any time of year, but the best time to go is during the autumn. The weather is cool and comfortable, and the leaves are turning beautiful shades of red and orange. There are also plenty of fun activities to enjoy, from visiting the State Fair to touring the Pumpkin Patch. In addition, Indianapolis is home to some of the best college football teams in the country, so you can catch a game or two while you're in town.
More USA City Weather
Albuquerque - Anchorage - Atlanta - Boston - Chicago - Cleveland - Denver - Detroit - Honolulu
Indianapolis - Kansas City - Las Vegas - Los Angeles - Manchester, NH - Memphis - New York - Miami - Milwaukee
New Orleans - Oklahoma City - Orlando - Philadelphia - Phoenix - Portland, Maine - Tucson - Seattle - San Diego