Lisbon Weather Averages
The following weather chart displays the monthly average weather conditions for Lisbon, Portugal. The red line displays the monthly day time maximum temperature while the blue line shows the average night time minimum. The bar chart indicates the number of wet days per month that Lisbon experiences.
Lisbon Weather Chart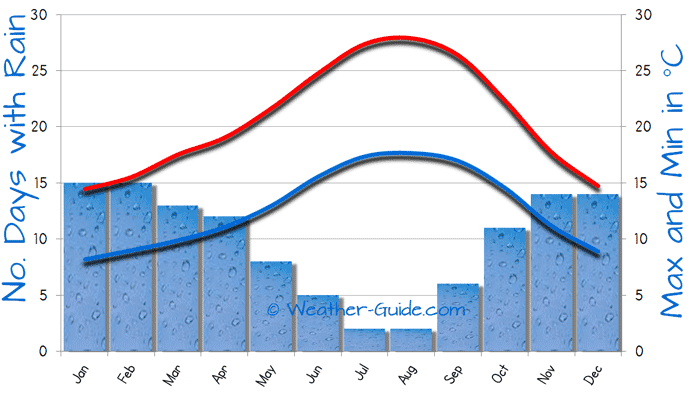 The average weather for Lisbon, Portugal
Portugal Weather
World Weather
Albufeira - Algarve - Ericeira - Faro - Figueira - Lagos
Lisbon - Nazaré - Peniche - Portimao - Porto - Tavira
The Algarve compared to.....
Costa del Sol - Crete - Ibiza - Rhodes - Sharm el Sheikh - Tenerife
Argentina - Australia & NZ - Canada - China - East Europe - France - Germany - Ireland - India - Italy - Korea
Mexico - Morocco - New Zealand - Japan - South America - Spain - Sri Lanka - Tunisia - Thailand - USA - Uk - Vietnam
Or City Comparison Weather Charts