Marrakesh Weather
Marrakesh the capital of Morocco has very hot winters and mild winters in which the majority of the regions rain falls. The best season to visit Marrakesh is during the spring months of April through to early June before the high temperatures of summer and after the possible gray or wet weather of winter.
The winter is regarded as wet but considerable less rain falls during these months than most or Europe. There can be long spells of fine weather during the winter and this is the season for bargain hunters looking for last minute deals. The height of summer is possible the worst time of year to visit as either as a traveler or package tourist. The main draw of Marrakesh are the medinas and traditional Berber market which can become very draining during the heat of summer and there are few activities which escape the heat or hassle of the capital. If travelling as a package tourist ensure you hotel has a swimming pool for the middle of the day. The heat of summer is very dry and without high humidity so it is possible to explore the capital with loose clothes and drinking lots of water.
Marrakesh Weather Chart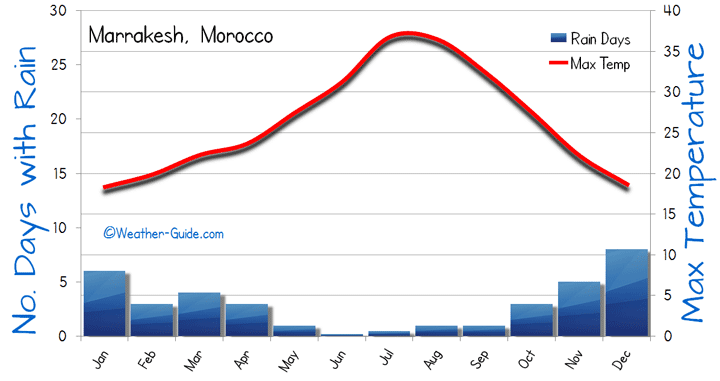 The average weather for Marrakesh, Morocco
Marrakesh Sunshine and Humidity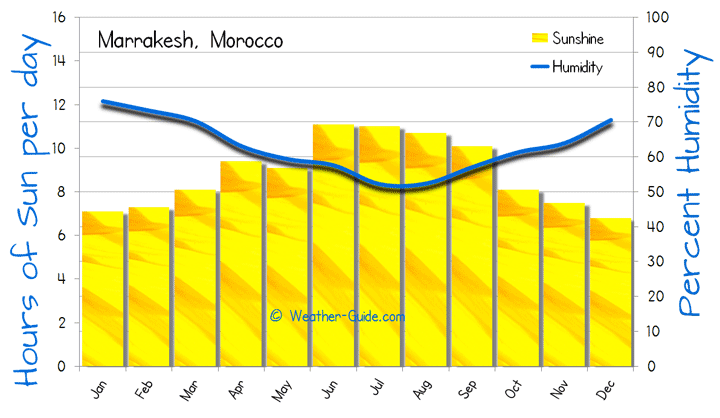 Humidity and hours of Sunshine for Marrakesh, Morocco
The above sunshine and humidity chart display the average conditions for Marrakesh. The amount of sunshine is the average amount per day while the humidity is expressed as a percent. The humidity levels changes significantly during the day with higher humidity in the mornings than evenings.
Marrakesh Maximum and Minimum Temperatures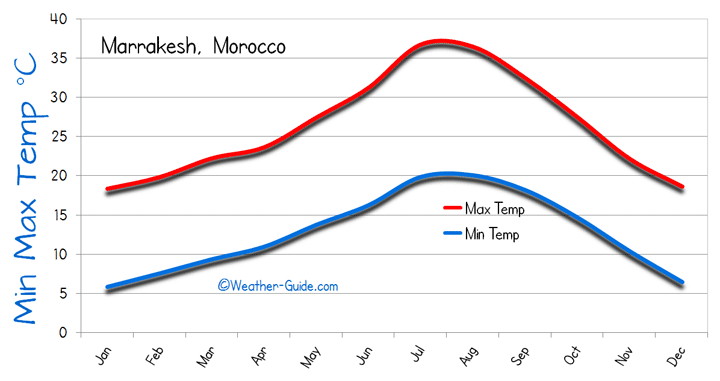 The above chart displays the maximum and minimum temperatures for Marrakesh, Morocco
Morocco & Tunisia Weather
World Weather
Agadir - Essaouira - Hammamet - Marrakesh - Monastir
Port El Kantaoui - Skanes - Sousse - Taroudannt - Yasmine Hammamet
Australia & NZ - Asia - Canada - China - East Europe - France
Germany & Italy - India - Iberian Peninsula - Korea - Mexico - North Africa - Japan
South America - Sri Lanka - Thailand - USA - Uk & Ireland
Vietnam
Weather-Guide.com, With Over 1,000 Pages There's Too Many To List Here!
City Comparison Weather Charts