Agadir Weather
Agadir has almost perfect weather all year round with very hot summers and wild to warm winters. This agreeable weather combined with the fantastic beach and hassle free city make Agadir a great Moroccan tourist destination. Due to the latitude of Agadir the summer sun is very intense and much stronger than Europe. The temperatures quoted in the weather charts are for the day time maximum in shade the temperature in direct sun light will always be much hotter. The spring and summer months are blessed with a cooling breeze and the close proximity to the ocean tempers the temperatures slightly when compared to inland.
The best season to visit Agadir and also the whole of Morocco is during the country's spring months of April through to June. The small amount of rain which does fall is during the short winter months but this is also the season to hunt out great last minute bargains.
Agadir, Morocco Weather
Agadir Weather Chart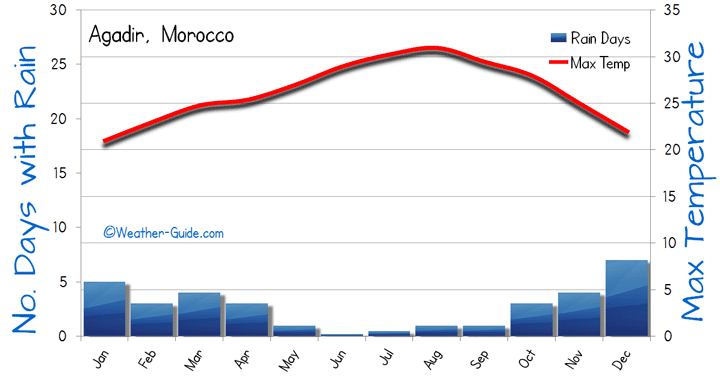 The average weather for Agadir, Morocco
Agadir Sunshine and Humidity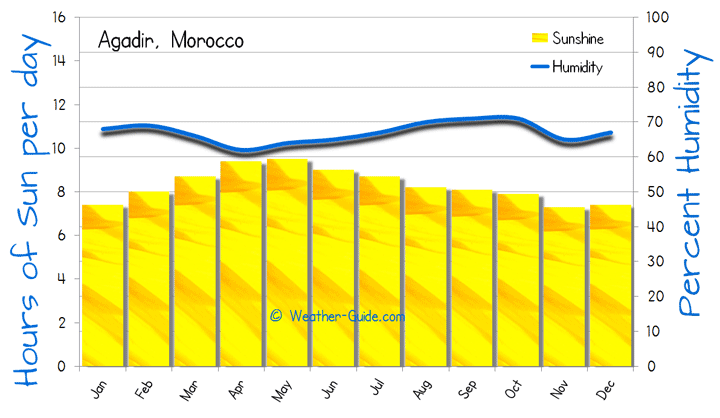 Humidity and hours of Sunshine for Agadir, Morocco
The above sunshine and humidity chart display the average conditions for Agadir. The amount of sunshine is the average amount per day and the humidity is expressed as a percent and is a measure at mid day. The humidity levels changes significantly during the day with higher humidity in the mornings than evenings.
Agadir Maximum and Minimum Temperatures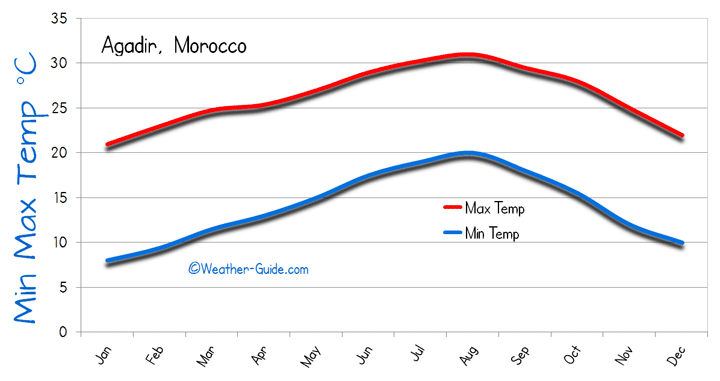 The above chart displays the maximum and minimum temperatures for Agadir, Morocco
Morocco & Tunisia Weather
World Weather
Agadir - Essaouira - Hammamet - Marrakesh - Monastir
Port El Kantaoui - Skanes - Sousse - Taroudannt - Yasmine Hammamet
Australia & NZ - Asia - Canada - China - East Europe - France
Germany & Italy - India - Iberian Peninsula - Korea - Mexico - North Africa - Japan
South America - Sri Lanka - Thailand - USA - Uk & Ireland
Vietnam
Weather-Guide.com, With Over 1,000 Pages There's Too Many To List Here!
City Comparison Weather Charts