The Weather of the Taj Mahal
Taj Mahal is located in the Indian city of Agra approximately 200km south of Delhi the capital of India. The Weather of the Taj Mahal and Agra has three distinct seasons with only one which is favourable for tourists and visitors. The three seasons are the mild winter, the incredibly hot summer and the wet monsoon. The best season to visit Taj Mahal is during the winter months of November through to February.
The Taj Mahal Weather Chart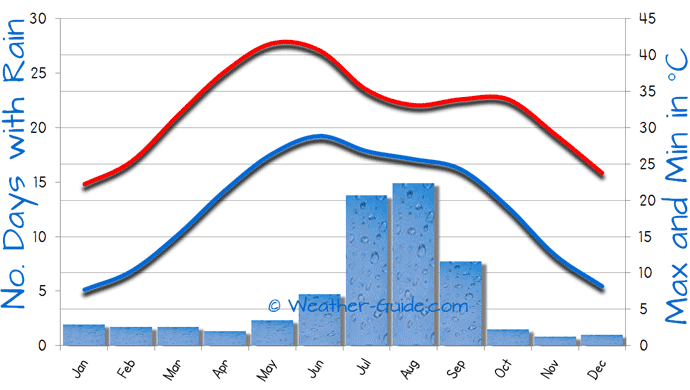 The average weather for Taj Mahal, India
The cooler winter months coincide with the main tourist season for India and this season starts at the end of the monsoon rain in late October. Days in this season are pleasantly warm with little rain and relatively low humidity. During late December and January there can be very thick fogs which linger when into the day which can severely detract from visiting the sights of Agra. The end of the tourist season occurs when the temperature starts to reach unbearable conditions in April and May.
The central position of Agra make the summer months unbearable. Daytime temperatures in direct sunlight can reach in excess of 45°C and night time temperatures only drop slightly. The climate combined with the hassle of Agra means that most tourists should avoid the summer months.
The monsoon season is from August through to mid October and brings relief from the summer heat. The rains are much less in Agra than in many other Indian cities but it is still not a great time of year to visit.
More Japan Weather
World Weather
Agra - Alappuzha - Amritsar - Bikaner - Bombay - Chennai - Delhi
Dharamsala - Goa - Kochi - Kollam - Kovalam - Madras - Mumbai
Puducherry - Trivandrum - Taj Mahal - Udaipur - Varanasi - Varkala
Australia & NZ - Asia - Canada - China - East Europe - France
Germany & Italy - Iberian Peninsula - Korea - Mexico - North Africa - Japan
South America - Sri Lanka - Thailand - USA - Uk & Ireland
Vietnam
Weather-Guide.com, With Over 1,000 Pages There's Too Many To List Here!
City Comparison Weather Charts