Ayia Napa Weather Averages
The following weather chart displays the monthly average weather conditions for Ayia Napa, Cyprus. The red line displays the monthly day time maximum temperature while the blue line shows the average night time minimum for Ayia Napa, Cyprus. The bar chart indicates the number of wet days per month.
Ayia Napa Weather Holiday Chart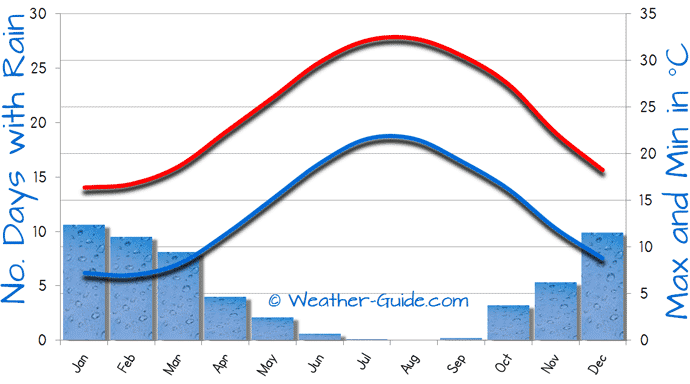 The average weather for Ayia Napa, Cyprus
When to Visit Ayia Napa
Ayia Napa, a popular tourist destination located on the southeastern coast of Cyprus, experiences a Mediterranean climate. This type of climate is characterized by warm to hot, dry summers and mild, wet winters. Here's a general overview of Ayia Napa's weather throughout the year:
Spring (March to May): Spring in Ayia Napa is pleasant, with gradually increasing temperatures and moderate rainfall. As the season progresses, temperatures rise, and the weather becomes sunnier. Average temperatures during spring typically range from 17°C (63°F) to 24°C (75°F). Summer (June to August):
Summers in Ayia Napa are hot and dry, with abundant sunshine and very little rainfall. This is the peak tourist season, as the warm weather and clear skies are perfect for beach activities. Average summer temperatures range from 27°C (81°F) to 33°C (91°F), with highs sometimes reaching 38°C (100°F).
Autumn (September to November): Autumn in Ayia Napa sees a gradual decrease in temperature, with occasional rainfall becoming more frequent as the season progresses. The weather remains warm and generally sunny, making it a pleasant time to visit. Average autumn temperatures range from 23°C (73°F) to 28°C (82°F).
Winter (December to February): Winters in Ayia Napa are mild and wet, with the coolest and wettest months being January and February. While temperatures rarely drop below 10°C (50°F), it is not the best time for beach activities. Average winter temperatures range from 12°C (54°F) to 17°C (63°F).
Cyprus is classified as having a Subtropical Climate of the Mediterranean Semi-arid type. This means that Ayia Napa has hot dry summers and very mild winters. The majority of the annual rain fall occurs during the winter months but Cyprus does suffer with water shortages. The yearly average temperature of Cyprus is warmest of the European Union Mediterranean countries so is a great holiday destination.
The sea temperature surrounding Ayia Napa ranges from 17°C in February to a warm 27°C in August. The average number of hours of sun light per day helps to keep Cyprus a popular holiday destination even in the winter months; the island has almost double the amount of northern European cities. Ayia Napa has an average of 12.5 hours of sun per day during July and still a pleasant 5.4 hours in December.
More Cyprus Weather
World Weather
Ayia Napa - Coral-Bay - Kouklia - Larnaca
Paphos - Paralimni - Peyia - Pissouri
Australia & NZ - Asia - Canada - China - East Europe - France
Germany & Italy - India - Iberian Peninsula - Korea - Mexico - North Africa - Japan
South America - Sri Lanka - Thailand - USA - Uk & Ireland
Vietnam
Weather-Guide.com, With Over 1,000 Pages There's Too Many To List Here!
City Comparison Weather Charts