Taroudant Weather
Taroudant is the classical Arabic fortified city that lies in the heart of the Souss Valley. Taroudant has a great relaxed atmosphere and is an ideal base for exploring the region's mountains so makes the city a popular tourist excursion from the Taroudant coast. The climate of the city is described as having a hot arid dry climate.
Taroudant's inland location means that the weather is more extreme than the coast with summer days unbearably hot. The heat of the city is combined with some of the most humid conditions of the country, especially during the summer. Do not plan to do trekking in the regions mountains during the summer season either waiting until the autumn or early spring. Spring as with most of Morocco is the best season to visit Taroudant.
Taroudant Weather Chart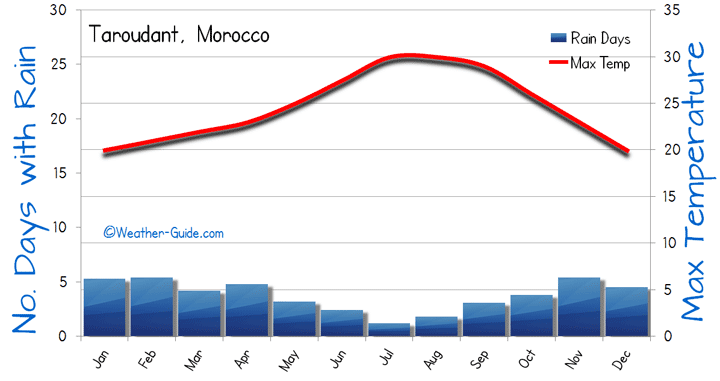 The average weather for Taroudant, Morocco
Taroudant Sunshine and Humidity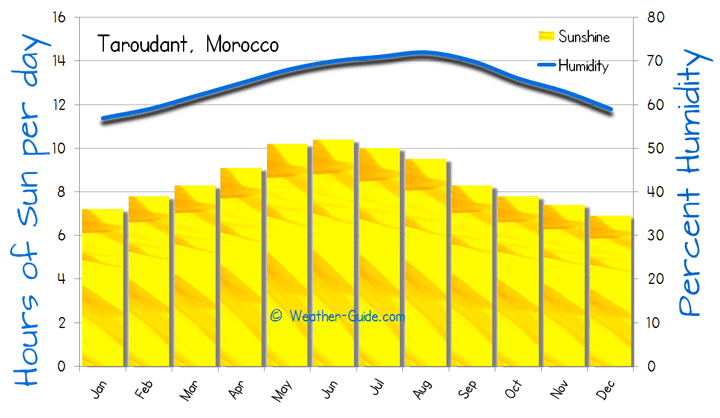 Humidity and hours of Sunshine for Taroudant, Morocco
The above sunshine and humidity chart display the average conditions for Taroudant; the amount of sunshine is the average amount per day while the humidity is expressed as a percent.
Taroudant Maximum and Minimum Temperatures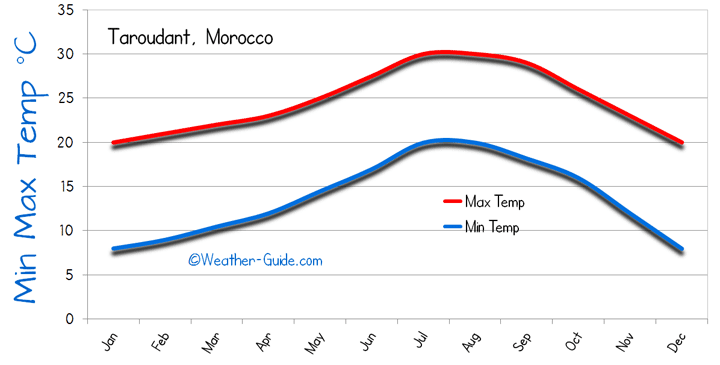 The above chart displays the maximum and minimum temperatures for Taroudant, Morocco
Morocco & Tunisia Weather
World Weather
Agadir - Essaouira - Hammamet - Marrakesh - Monastir
Port El Kantaoui - Skanes - Sousse - Taroudannt - Yasmine Hammamet
Australia & NZ - Asia - Canada - China - East Europe - France
Germany & Italy - India - Iberian Peninsula - Korea - Mexico - North Africa - Japan
South America - Sri Lanka - Thailand - USA - Uk & Ireland
Vietnam
Weather-Guide.com, With Over 1,000 Pages There's Too Many To List Here!
City Comparison Weather Charts