Essaouira Weather
Apart from having very hot summers and warm winters weather of Essaouira is dominated by the alizee winds. These winds make the city and beach a perfect destination for kite and wind surfers as waves are whipped up. This alizee winds do not encourage spending long spells on the beach especially during the spring and summer months. As with much of Morocco the summer months are incredibly hot but the heat is without the high humidity. The best time of year to visit Essaouira is during the regions spring months of April through to May. Autumn after the hot summers is also a good season to visit but nights rapidly cool off later in the year, this is also the season when the best bargains can be sought.
Essaouira Weather Chart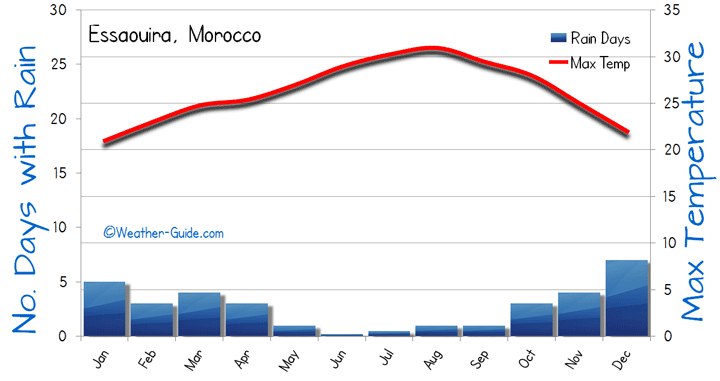 The average weather for Essaouira, Morocco
Essaouira Sunshine and Humidity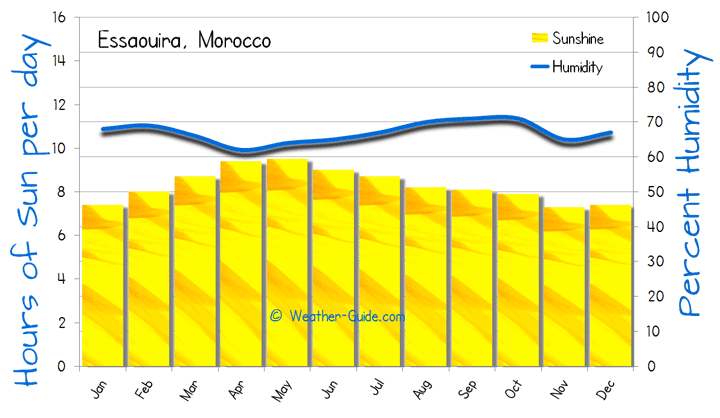 Humidity and hours of Sunshine for Essaouira, Morocco
The above sunshine and humidity chart display the average conditions for Essaouira. The amount of sunshine is the average amount per day while the humidity is expressed as a percent.
Essaouira Maximum and Minimum Temperatures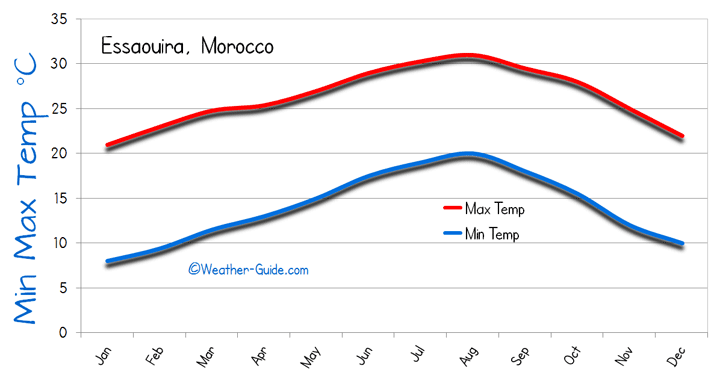 The above chart displays the maximum and minimum temperatures for Essaouira, Morocco
Morocco & Tunisia Weather
World Weather
Agadir - Essaouira - Hammamet - Marrakesh - Monastir
Port El Kantaoui - Skanes - Sousse - Taroudannt - Yasmine Hammamet
Australia & NZ - Asia - Canada - China - East Europe - France
Germany & Italy - India - Iberian Peninsula - Korea - Mexico - North Africa - Japan
South America - Sri Lanka - Thailand - USA - Uk & Ireland
Vietnam
Weather-Guide.com, With Over 1,000 Pages There's Too Many To List Here!
City Comparison Weather Charts