Moscow Weather Averages
This web page displays the Moscow Weather Averages. The data is displayed over three weather graphs; the upper provides a weather summary, the middle displays the amount of rain compared to hours of sunshine while the bottom graph shows the temperature in Centigrade and Fahrenheit. The Moscow weather averages can be summarised by stating that the capital has humid hot summers and bitterly cold winters. The winter months last from november through to March.
Moscow Weather Averages Summary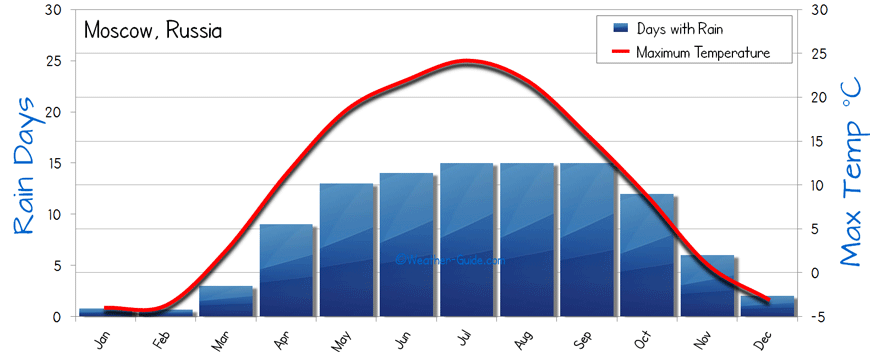 Moscow weather chart as a monthly summary and seasonal trends of Russia.
Moscow Sunshine and Rainfall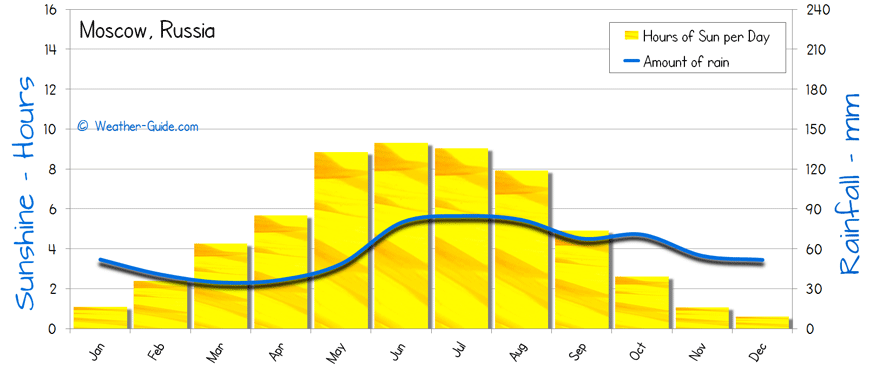 The average hours of sunshine per day verses the amount of rainfall for Moscow, Russia
Maximum and Minimum Temperature of Moscow in Centigrade and Fahrenheit

The Maximum and Minimum Temperature of Moscow in fahrenheit and centigrade.
As anyone who has ever been to Moscow in the winter can attest, the weather can be brutal. The days are short, and the temperatures are often well below freezing. Even worse, the wind can make it feel even colder. Despite these challenges, Moscow is a beautiful city, and there are plenty of ways to enjoy the winter months.
One option is to take advantage of the many indoor activities that the city has to offer, from museums and art galleries to theatres and concert halls. Alternatively, people can bundle up and venture outdoors, taking advantage of the city's many parks and open spaces. With a little planning, it is possible to make the most of even the coldest Moscow winter.
Spring in Moscow is a time of change, as the snow begins to melt and the days grow warmer. The average temperature in April is around 10 degrees Celsius, but it can range from -5 to 20 degrees. By May, the weather is usually more settled and the average temperature is 16 degrees. June is the start of summer, and the average temperature rises to 20 degrees.
However, it can still get cold at night, so it's important to pack a jacket for evening outings. July and August are the warmest months, with an average temperature of 22 degrees. However, days can still be cool or wet, so it's always good to have a sweater or umbrella on hand.
More Eastern Europe City Weather
World Weather
Ankara - Auschwitz - Berlin - Bucharest - Budapest - Kiev - Krakow - Moscow
Prague - Riga - Saint Petersburg - Tallinn - Vienna - Vilnius - Warsaw - Wroclaw
Australia & NZ - Asia - Canada - China - East Europe - France
Germany & Italy - India - Iberian Peninsula - Korea - Mexico - North Africa - Japan
South America - Sri Lanka - Thailand - USA - Uk & Ireland
Vietnam
Weather-Guide.com, With Over 1,000 Pages There's Too Many To List Here!
City Comparison Weather Charts